On Moral Injury
Posted by Michael Putzel • October 13, 2017
Excerpt from an address to alumni of C Troop, 2/17 Cavalry, 101st Airborne Division
San Antonio, Texas, October 7, 2017
How many of you know the term "moral injury?"
It is not a recognized disability or as carefully defined as PTSD, but it is a concept many of you may recognize. As it is generally understood, moral injury refers to people who come home from war and find over time that they can't square was they did with the values they learned growing up. They may have performed admirably, been proud that they fulfilled their duty, saved the lives of buddies and earned the gratitude of their superiors, their friends and their families. But for one reason or another they come to feel a sense of guilt, of betrayal.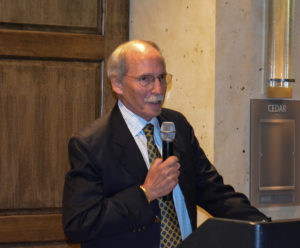 Whether the cause they fought for was just or not, they may come to feel their part in it was somehow wrong because it didn't follow the teachings of their church or the values they learned from their families or what they came to believe later in life. They may find themselves in a moral quandary not of their own making.
Most of you here know Ricky Miller, a proud soldier who earned the respect and gratitude of many Condors. One of the stories in the book tells of Ricky's desperate attempt to save a dying friend and his long struggle to fulfill a promise to that friend, Sergeant Paul Johnson. Ricky's heroism on the battlefield that day was unquestioned, but he couldn't bring himself to visit Paul's family in a little town in Kentucky and tell his parents that Paul expressed his love for them as he lay dying. Miller carried that guilt like a heavy rucksack for years and years, twenty at least, before he eventually forced himself to drive to New Haven, Kentucky, to confront his demons. He didn't realize that the family he found and told about Paul's death was actually a different band of Johnsons with a different soldier killed at almost the same time as Paul but in another part of South Vietnam. Although the visit helped, Ricky Miller didn't feel cured of his guilt, even after Paul's niece met him at The Wall and praised him as a hero for sticking with her mortally wounded uncle and making sure he wasn't left behind, listed as missing in action. At last, just two years ago, Paul Johnson's family asked Ricky to return to Kentucky to be properly welcomed and celebrated by Paul's siblings and their offspring. With his wife Ruby's steadfast support, Ricky made the trip again, this time to the right family, and fulfilled his own mission to visit Sergeant Johnson's grave, which he had been unable to do for forty-six years.
That story, updated with the events that occurred after my book was published, will be told in a chapter I wrote for a new book entitled War and Moral Injury edited by a college professor, Robert Emmet Meagher, and a recently retired Army officer, Lt. Col. Douglas Pryer, who served in the office of the Army Chief of Staff in the Pentagon. It's due out in the spring.