New names on The Wall
Posted by • June 05, 2016
The Vietnam Veterans Memorial Fund has added eight names to the shiny black granite panels of the Vietnam Veterans Memorial in Washington, bringing the total of American servicemen and women listed as killed or missing in Southeast Asia during the war to 58,315. Nine of those identified on The Wall as missing in action were reclassified as killed, based on recovery and identification of their remains.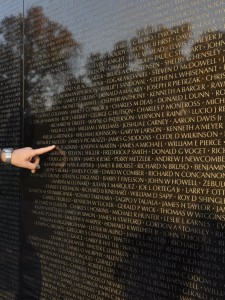 The fund, which raised the money and built The Wall, relies on the Department of Defense to update the casualty count once a year as new information is received and verified. When the Pentagon confirms that service members eventually died of wounds sustained during the Vietnam conflict, their names are engraved in a manner that makes them essentially identical in size and style to those carved in stone when the memorial was built in 1982. Those killed are identified by a small diamond engraved next to their names. Service members regarded as missing because their remains have not been recovered or identified are marked with a cross. When remains are identified, the cross is altered to take the shape of a diamond.
The fund said the eight new names added to The Wall this year are:
Lance Corporal Jeffrey R. Barber, U.S. Marine Corps, Denver, Colo., born Oct. 9, 1950, died Sept. 6, 2011
Private First Class Michael G. Frey, Army, Florissant, Mo., born Oct. 21, 1949, died Sept. 15, 2014
Lance Corporal Chester A. Lederhouse Jr., U.S. Marine Corps, Ransomville, N.Y., born Jan. 19, 1947, died July 13, 1966
Specialist 4 James S. McGough, U.S. Army, Fort Dodge, Iowa, born Feb. 23, 1951, died Jan 3, 2014
Engineman Chief Petty Officer Leonard E. Outlaw Sr., U.S. Coast Guard, Grandy, N.C., born Dec 19, 1936, died March 23, 1972
Private First Class Lee A. Rawn, U.S. Marine Corps, Lake Worth, Fla., born May 4, 1946, died April 24, 1967
Specialist 5 Jimmy L. Smith, U.S. Army, Wasco, Ill., born Sept. 30, 1948, died May 24, 2014
Lance Corporal John D. Stenhouse, U.S. Marine Corps, Spokane, Wash., born April 13, 1949, died August 15, 2012
The nine servicemen already named on The Wall whose status was changed from missing to killed are:
Army Major Donald G. Carr, San Antonio, Tex.; Navy Lieutenant Richard C. Clark, Tacoma, Wash.; Army Staff Sergeant Kenneth L. Cunningham, Ellery, Ill.; Army Sergeant Rodney L. Griffin, Centralia, Mo.; Army Sergeant First Class Billy D. Hill, Fallon, Nev.; Army Master Sergeant James W. Holt, Hot Springs, Ark.; Air Force Chief Master Sergeant Edwin E. Morgan, Salisbury, N.C.; Army Staff Sergeant Bunyan D. Price Jr., Belmont, N.C., and Army Major Dale W. Richardson, Cashton, Wis.